How To Measure Your Ring Size
Learn how to measure your ring size for a perfect fit each time.
Imagine that you've found your perfect engagement ring featuring VRAI created diamonds, either online or by booking an appointment with a diamond expert. The lab-grown diamond you've chosen is the color, clarity, cut, and carat weight that's right for you. The setting is what you've always wanted, and you've selected your preferred metal color and band style. Have you ever wanted to wear anything more? Don't put off wearing it with an improper fit.
Read on to discover the right way to ring size so that your ring fits perfectly from the start.
How do you know your ring size?
To ensure the perfect fit, you must measure your finger. The myth that your ring size is the same as your shoe size is false for the vast majority of people. It's important to measure your finger and consult a ring size chart to make sure your ring will fit correctly.
While fine jewelry rings can be worn on any finger, many choose to wear their engagement ring or wedding band on their ring finger (between middle finger and pinky) on their left hand.
Remember that your left ring finger might be a slightly different size than your right ring finger. And each finger on your hand will be a different size, as well. So when finding your ring size, measure the exact finger you'll wear the ring on.
What is a Ring Size Chart?
A ring size chart shows you the range of sizes a ring appears in. Your ring size is a number (as opposed to small, medium, or large) that corresponds to the diameter of your finger. Most ring size charts range from size 3 (14.1 millimeters) to size 14 (23.1 millimeters). These sizes are used in the US and Canada. European and Australian sizes differ.
When you select a ring on VRAI.com, the ring size chart appears on the product description page. For engagement rings, this ring size chart will appear after you've selected your diamond. VRAI engagement rings and most fine jewelry rings are available in sizes 3-11. Wedding bands are offered in sizes 3-14.
How can I find my partner's ring size for a surprise proposal?
Before learning how to properly measure a ring size, know that there are ways that you can find your partner's ring size without them knowing. So for those who want to prepare a surprise proposal, here are some tips to consider:
Observe the rings they currently wear. If they wear a ring on one of their ring fingers, find a time when they've removed it to measure it.
If they only wear rings on other fingers, you can still measure it to get close to their true size. Just anticipate possibly resizing after you propose.
If you're unable to measure a ring, ask a close friend or family member who might know their size.
If you're truly unable to find their size beforehand, select an average size and prepare to resize after your engagement.
Find your engagement ring and ensure the perfect fit by booking an appointment with our diamond experts.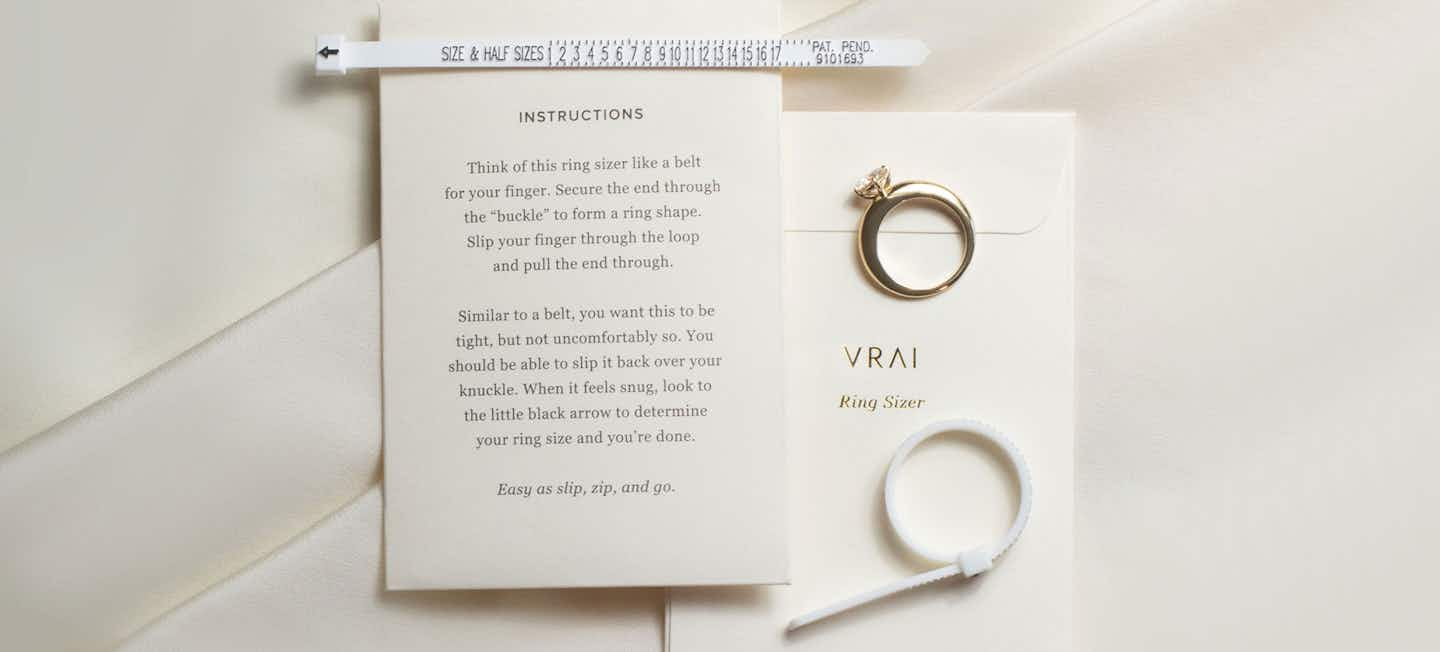 How can I measure my ring size at home?
VRAI offers ring sizers, which makes finding your ring size at home effortless. Should you need to measure your ring size right away without a ring sizer, however, you can do the following:
Use floss or a piece of string to wrap around the base of your finger.
Mark where the string overlaps with a pen.
Lay the string down on a ruler and take down the length in millimeters.

Look at the ring size chart to see which size corresponds to your measurement.

How can I get a ring sizer?
VRAI's ring sizers can be ordered and shipped to your home. Simply follow the link, click "Add to bag," and the sizer will be shipped anywhere in the US or UK free of charge.
How do I use a ring sizer?
Secure the end of the sizer through the buckle to form a ring shape.
Slip your desired finger through the loop.
Pull the end through until the sizer fits snug but is not overly tight.
When it fits correctly, look at the little black arrow and note your ring size.
No need to get out the ruler or string. You now know your ring size. Keep the sizer to measure correctly for every time you shop for a new ring.
How can I find my ring size in inches?
Most ring sizes are measured in millimeters, but if you'd like to know your ring size in inches, note that there are 25.4 millimeters per inch.
Measure your finger with string (or use your ring sizer)
Note the circumference in millimeters.
Divide by 25.4
For example, a ring that is size 7 is 54 millimeters in circumference, so 2 ⅛ inches.
How can I find my ring size in centimeters?
The same principle applies when converting your ring measurement to centimeters. There are 10 millimeters to a centimeter. Divide the number of millimeters by ten.
A size 10 ring is 61.9 millimeters, so 6.19 centimeters. Explore our ring size conversion chart to learn more.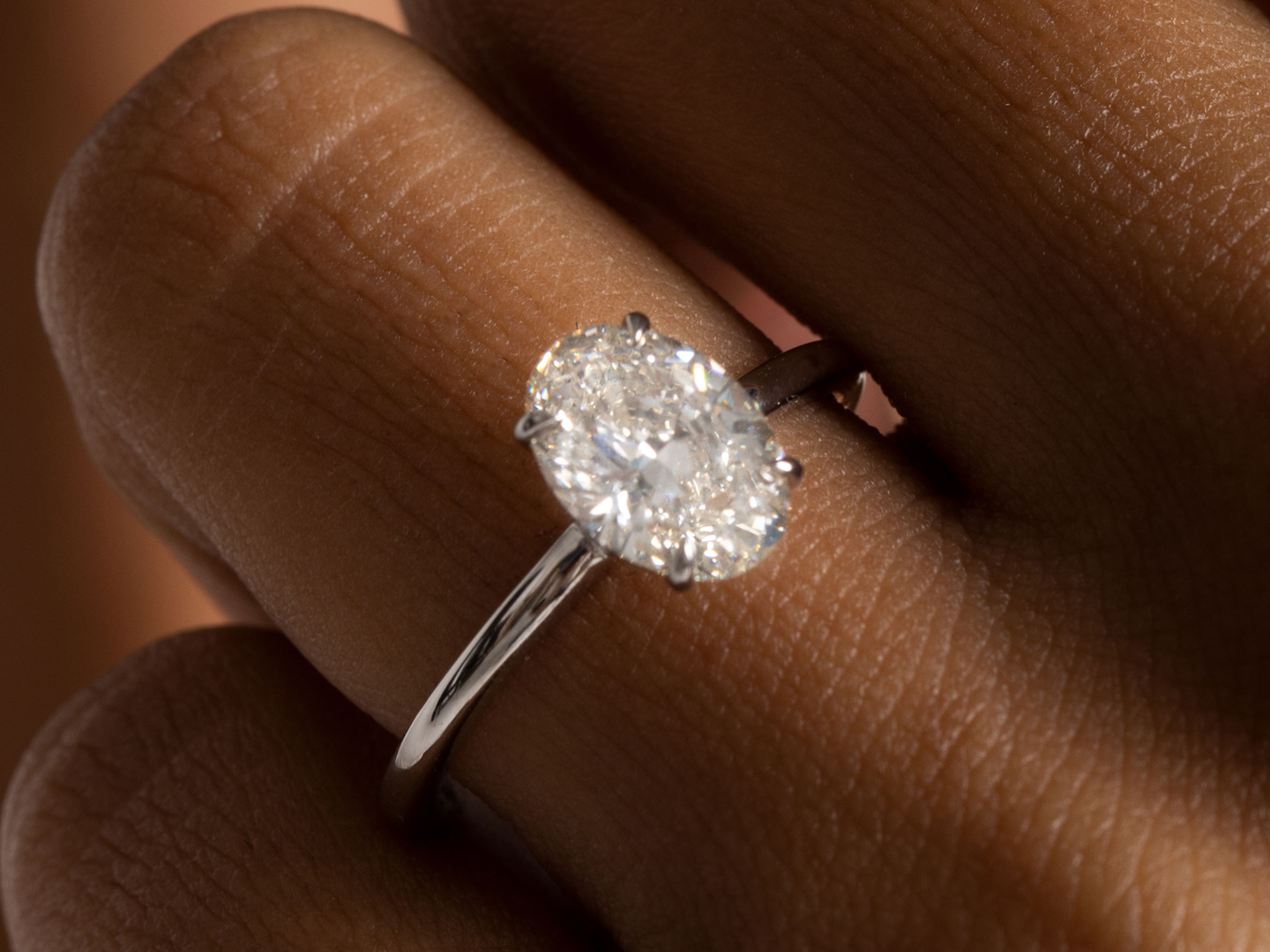 What is the average ring size for women?
The average ring size for a woman is 6.
What is the average size for an engagement ring?
The average size for a woman's engagement ring is size 6. If you are unsure of her ring size, consider if her fingers are slimmer or fuller than average before moving up and down the ring size scale. If her ring finger seems average size and you are unable to measure beforehand, order a size 6 or err on a slightly larger size and have the ring resized after your proposal.
A petite woman with smaller hands or thinner fingers will likely wear a size 4 ring. The vast majority of women order rings sizes 5 through 7, but size 6 remains the most common ring size.
What ring size should I get for stacking rings?
Even for stacking or fine jewelry rings, the average size is still 6. Be sure to measure each finger before ordering a ring, as most fingers vary in size. And if you are planning on stacking a ring higher up on your finger, measure accordingly so that the ring will not slip off.
What ring size should I get for Mixed Cuff rings?
While VRAI's Mixed Cuff Ring does have an open cuff design, it is not adjustable, so order true to size. This particular design is available in quarter, half, and full sizes to ensure the best fit.
What are men's ring sizes?
The average ring size for men is size 9.
What is the average men's wedding band size?
The average men's wedding band size is 9. While VRAI wedding bands are available in sizes 3 through 14, most men order order rings within the 8-12 range. Size 9 is the most common size.
What ring size should I get for pinky rings?
Most pinky rings, like VRAI's Compass Ring, are two full sizes smaller than the ring finger size. If an average man wears a size 9 ring, he will likely wear a size 7 pinky ring. The best way to determine pinky ring size is to measure the finger with a ring sizer.
What ring size should I get for signet rings or other rings?
Although it will depend on which finger you decide to wear a signet ring, the average size for men's signet rings or other unisex designs remains size 9. The best way to determine the appropriate size for any ring is through measuring with a ring sizer.
What happens if my ring doesn't fit?
If your engagement ring or wedding band does not fit, VRAI's Lifetime Care Package includes one resize up or down up to one full size.
How do I know if my ring fits?
Your ring should fit snug, not tight, at the bottom of your finger near your knuckle. You should be able to slip the ring down your finger without forcing it. The ring should not slide up or slip off your finger on its own.
How do I resize my ring?
Send a message to hello@vrai.com specifying that your engagement ring will need to be resized. If you purchased your ring through an appointment with our diamond experts, you may also reach out to them to begin the process.
If you wish to take your ring elsewhere for resizing, you may. But because VRAI stands behind their designs and jewelers, any third-party or outside jeweler altering or servicing your jewelry will void your Lifetime Warranty.
Can my ring size change?
Yes, your ring size can change. The most common way your ring size changes is through weight loss or gain.
Your ring can also fit tighter when you are retaining water, riding in an airplane, or experiencing swelling due to hot weather. Just be sure to purchase a ring that is snug but not tight to avoid any discomfort.

Speak with our Diamond experts
Find your engagement ring and ensure the perfect fit by booking an appointment with our diamond experts. Whether in person or virtually, enjoy a complimentary consultation where you'll receive in-depth diamond information and a look at engagement rings and fine jewelry featuring diamonds sustainably grown by VRAI.